3 Tips for Matching Your Office to Your Culture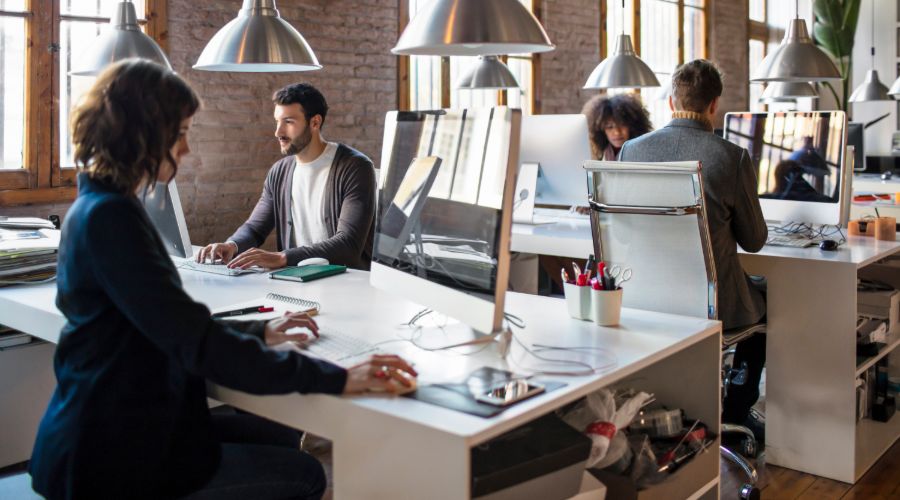 Workplace cultures tend to either be team-oriented, where everyone pitches in and picks up new responsibilities, or hierarchical, where everyone knows exactly what they need to accomplish.
Company culture plays a part in every aspect of your business – to include your workspace interior. Potential hires will develop first impressions based on what they see around them. If your customers ever see your location, it may influence how they think about you.
As a small business owner, your office might not perfectly reflect your culture because of budgetary restraints or restrictions in your rental agreement. But, there are three things you can do to help your environment align with your culture
1. Rearrange your team's workstations
Team-oriented cultures tend to need open floorplans so employees can interact with all their coworkers as needed. If you're renting a space that doesn't have an open floorplan, consider setting up an area for collaboration. For example, you might put several small tables in the corner of the office that members of your team can gather around when they want to work together. If your office doesn't have many walls, try having your staff work from a long table instead of individual workstations. That way, they can move around as needed and work beside someone new each day.
If your company has a traditional culture with a clear hierarchy, you may prefer to give workers their own office, so they can close the door when they need to devote time to a task. If you're in a space that doesn't have individual offices, purchase cubicles to separate your workers from one another. If that's not in your budget, arrange workstations based on the tasks your team is doing to mitigate distractions from their coworkers.
Read also: How to Create a Company Culture Your Team Will Love
2. Change how your meeting area is setup
Companies with team-oriented cultures tend to hold a lot of collaborative brainstorming sessions. Because of this, your meeting spaces probably shouldn't look like boardrooms with one person sitting at the head of the table. Instead, arrange them to encourage conversation. Depending on how much space you have, you might have one round table that your team can all gather around and ensure everyone's ideas are heard. Or, you might have an area set aside where your workers can pull up their desk chairs whenever a brainstorming session pops up.
Businesses with a traditional culture will often run meetings much differently. Your conferences may be state-of-the-company updates or other events where primarily one person is presenting. If those are the types of meetings your company holds, place the chairs to all face a central point where the speaker will be.
Learn more about how to hold a productive meeting.
3. Introduce color
Color can have a significant effect on your workers' productivity and mood. Team-oriented cultures may want to inspire creativity and innovation. So, you may choose bright colors, like yellow. Traditional companies, however, might want to encourage calmness and focus, so you might decide to incorporate blues and other cool colors.
It may not be in your budget to paint your walls. But you can add color to your workplace in more cost-effective ways, such as through the fabric used on your furniture or by hanging wall art.