11 Tips for Promoting Your Business through Pinterest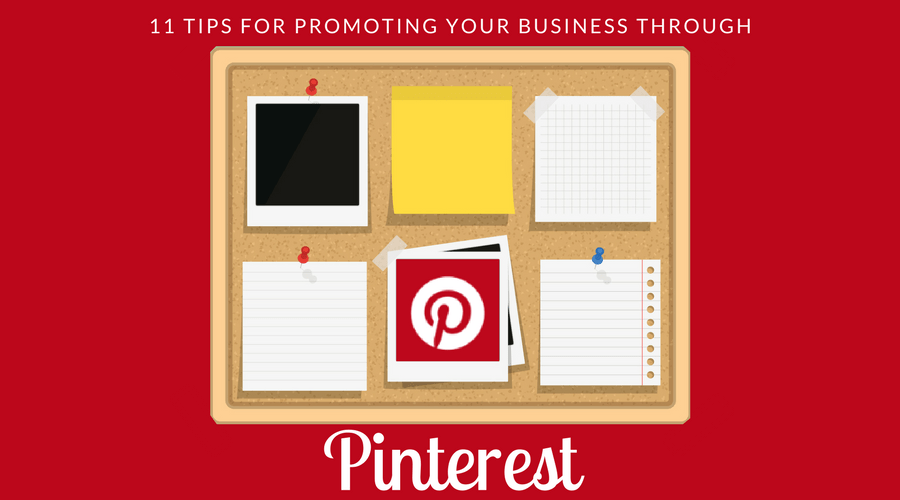 I know what you're thinking, "I don't have time to manage another social media account for my company." Well, Pinterest isn't really a social media network – it's a hybrid search engine/social media network. And, if you offer products or services that are visually powerful, then it's the perfect place to promote your business.
Why Should I Use Pinterest?
Pinterest has a huge user base – over 200 million monthly users1 (called Pinners). So, you'll be able to reach people across the country and around the world. Besides having a large user base, there are several reasons to use Pinterest for your business:
People go to Pinterest to buy things. According to Pinterest, the platform "isn't about killing time. It's about finding something to do or buy."1 73% of Pinners have said that Pinterest has inspired them to shop, even when they weren't planning on buying anything.1 So, when you're promoting your business through Pinterest, you're not just raising awareness about your company, you're actively encouraging them to buy from you.
Unlike other platforms, Pinners actually want to see brands in their search results. 78% of Pinners said that they find content from brands useful2 because brands' content shows them the latest trends and new ways to use products.
61% of Pinners have found new brands and products through Promoted Pins.1 You'll have no shortage of new customers.
Pinterest can improve your Google rankings. When you or your followers link Pins back to your website, Google sees your site as more credible.
Tips for Using Pinterest
Have you decided you want to create an account for your business? Great! Check out these tips to take full advantage of what Pinterest has to offer.
Organize Your Pins
When you start Pinning things, you'll be asked to create a Board. Don't just stick to one Board, though – organize your Pins into many different Boards. By doing this, you'll keep related things together, which can make it easier for your followers to find what they're looking for.
For example, if you're a clothing boutique, you don't want your followers to have to look through winter coats, when they're trying to find a new summer dress.
Advertise
Pinterest allows businesses to advertise through Promoted Pins. Promoted Pins look and act like every other Pin (so Pinners aren't annoyed by your ad), but they're shown to more Pinners.
Take Advantage of Rich Pins
Rich Pins use metadata to create a more responsive, interactive pin. There are four types of Rich Pins:
apps,
articles,
products, and
recipes.
If you use a Product Pin, the pin will link directly to that product and include real-time pricing. So, if you put the product on sale, your Pin will update automatically.
Include Pinterest in Your Marketing Calendar
Just like every other piece of your marketing strategy, Pinterest should be included on your calendar, so you know what and when to pin. You can make it easy on yourself by pinning every time you publish a new blog post or share a new style guide.
Don't Pin Everything at Once
One of the best ways to attract new followers is to share multiple Pins a day. If you're going to share 30 Pins in one day, though, don't post them all at once. Instead, spread your Pins out throughout the day.
Since you don't have time to go on Pinterest 30 times a day, there are ways to make it easier for yourself. You could create a Secret Board with all your Pins ready to go. Then, when it's time to pin something, just move it to one of your public Boards.
Or, you could use a social media scheduling program, like Buffer, Tailwind, etc. to do the work for you.
When's the Best Time to Pin
Like everything else, you'll have to experiment a little to figure out the best times to pin on Pinterest. But, to get started, the best times to pin generally are3:
2PM to 4PM (when everyone hits that afternoon lull in the office),
8PM to 1AM (the kids are in bed, and Pinners have settled in for the night), and
Saturday mornings (when Pinners are lying in bed planning their next big trip or doing some online shopping).
Follow Popular Boards
You don't just want to pin your products or your blog posts; you want to share other Pinners' Pins, too.
So, find the Pinners and Boards that are most popular in your industry and follow them. Then, repin some of their Pins.
Share Unique Ways to Use Your Products
Pinners don't just want to see pictures of your products. They want to see your products being used, so share visually striking images of your products being used in fun and unique ways.
Making Pinning Easy
You can pin things from anywhere online (and even by directly uploading images). So, make it easy for Pinners to share images from your website on Pinterest (even if you haven't pinned them, yet).
Include a "Pin It" button on your images, so Pinners can just click the button and add the image to one of their Boards.
Share Your Boards
Did you know you can have more than one contributor on your Boards? Create Boards that your followers and loyal customers can pin to. Just add them as a contributor, so they can pin to it. You'll have even more Pins out there for potential customers to find, but you won't have to put in the work.
Engage with Your Followers
You already respond to comments on Facebook, Twitter, and Instagram. Pinterest is no different. If someone comments on one of your Pins, respond back to them.
Then, do the same. If you find a Pin that you really like, comment on it – engagement is a two-way street.
Share Your Top Pins in Your Newsletter
Do your customers know that you have a Pinterest account? Encourage them to follow you by sharing your top pins of the week in your newsletters. You can just include screenshots of your top pins (linking directly to each Pin) in your emails.
This encourages your newsletter recipients to follow you on Pinterest, then repin your Pins. The more people are repinning your Pins, the more likely new Pinners will find you.
---
1 Pinterest Possibilities Planner 2018
2 Here's how people shop on Pinterest
3 The Science of Pinterest Scheduling: Finding Your Best Consistency, Frequency and Timing