How to Write an Effective Expense Policy [Free Download]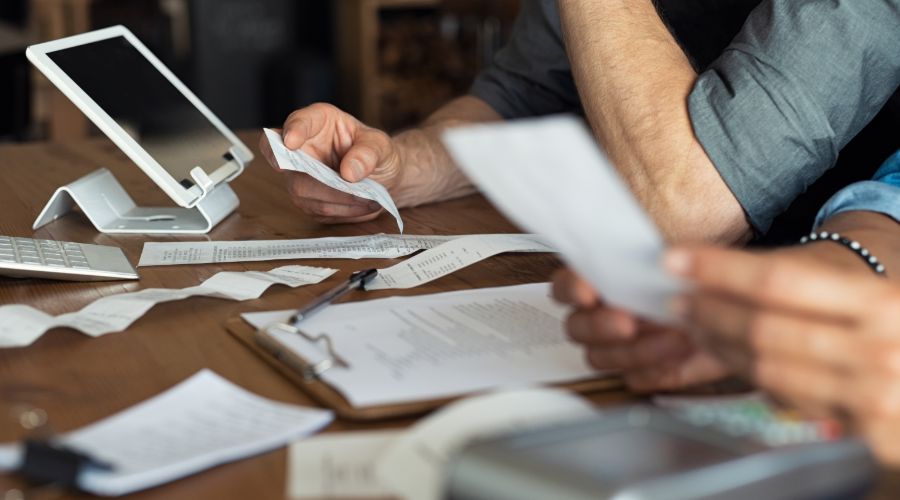 Tracking your business expenses helps you reduce your taxable income. If employees incur any of your expenditures, an effective expense policy allows you to keep an eye on your costs and have better control over them.
What does the IRS say about expense policies?
Per the IRS, reimbursements don't have to be included in a worker's wages if you have an accountable plan. For your policy to be an accountable plan, it must meet the following criteria:
Expenses must have a business connection, so your team must have paid or incurred the costs while performing services as your employee.
Your team members must adequately account for their expenditures within a reasonable amount of time.
If you give your staff an advance to pay for something, they must return any excess within a reasonable amount of time.
A "reasonable amount of time" can change depending on the circumstances. Actions taking place in the following timeframes, however, are typically acceptable:
A staff member submits an advance request within 30 days of expecting to incur an expense.
A worker adequately accounts for their spending within 60 days after incurring or paying the cost.
Your team member returns any excess reimbursement within 120 days after the expense is incurred or paid.
If you give someone on your staff a periodic statement (at least quarterly) asking to return or account for outstanding advances, they should comply within 120 days of receiving the report.
What should you include in your expense policy?
1. Purpose & scope  
Explain why you have a policy and state that it applies to all employees. This will reassure your team that everyone will be expected to provide the same documentation and help you avoid conflicts.
2. Expectations & procedures  
Explain the exact procedure your team should follow to track, document, and submit expense information for reimbursement. Using web-based programs, like Workful, makes these processes easy.
Read also: 5 Ways Digital Expense Management Benefits Small Business
3. Travel expense policy  
Discuss traveling for business, including securing transportation and lodging and paying for food. Your travel expense policy may be specific to overnight trips, driving around town to visit clients, or might include all trips.
Your travel expense policy might include:
the name of the person who approves travel
how to separate costs if the team member will be vacationing some on the business trip
what expenses will be prepaid by the company, such as airfare, rental cars, and conference fees
what expenses will be reimbursed with proper documentation, such as usage of personal vehicles and parking
any costs that will not be reimbursed
how the employee should handle travel costs for a friend or family member accompanying them
what the per diem will be for meals
what documentation is required for reimbursement
Having a travel expense policy in place helps you control travel costs a little bit. Because you've set out rules and expectations, your staff will know they can't stay in a 5-star hotel and order room service every night. It also helps you be better prepared for any travel expenses. Because you named someone to approve travel, you won't be surprised when someone hands you their hotel bill.
4. Miscellaneous expense policies  
Sometimes, your workers will pay for things like postage or office supplies, so make sure you include policies about those, too.
5. Advances  
Explain your policy on advances, even if it's that you don't give them. If you do give advances, explain when your staff should request it, submit their expense report, and return any excess amounts.
6. Reimbursements  
People might get antsy waiting for their reimbursements, so put them at ease by telling them when they should expect to be repaid. You should also explain when they can resubmit a request if it was rejected initially.
5 tips for creating an effective expense policy
By following these five tips, you'll create a policy that's easy to read and understand.
Keep it simple – Your policy should be a helpful list of guidelines explaining what workers can and cannot claim on their expense reports. Make sure it's easy enough for everyone in your company to understand – more people will remember the rules and follow them.
Make it fair – Your staff should be able to claim reasonable costs, so set realistic expectations. If you set the limit too low on travel expenses, for example, your team members might have to spend hours looking for a hotel that fits in the budget or might feel guilty grabbing a sandwich on the road. You should also make sure that the same guidelines apply to everyone in your company and that no one is getting special treatment.
Keep it updated – As technology and prices change, your policy should change, too. Make sure that you're regularly reviewing your expense policy and updating it.
Make it easily accessible – Your team can't read your policy if they can't find it. Keep it in an easy-to-find location, like an online document warehouse so that everyone can access it.
Pay promptly – Make sure you reimburse everyone on your staff accurately and timely. If your employees are following the policy guidelines, you should be able to quickly approve their expense reports and pay them back faster.
Read also: 5 Ways Your Small Business Will Benefit from Electronic HR Document Management