Is It Time for a Human Resources SWOT Analysis?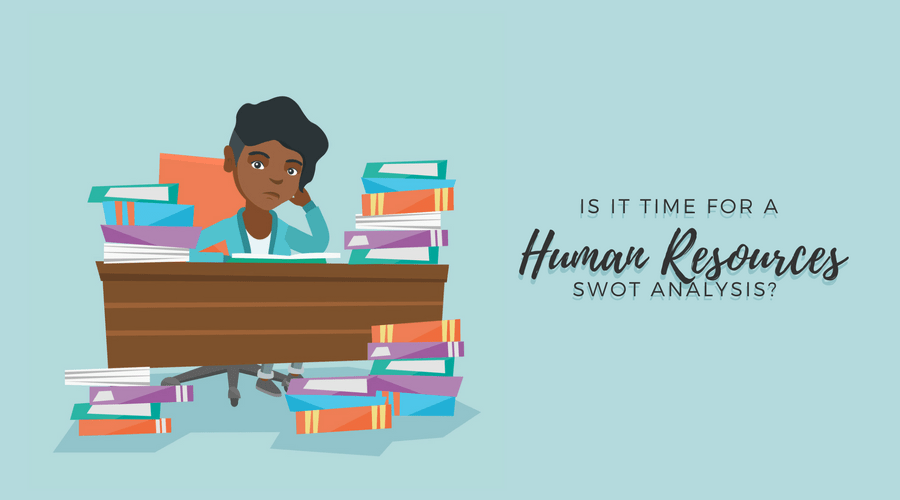 When you hear SWOT analysis, what do you think of? Marketing strategies? A business plan? What about human resources? Probably not that last one. But, a human resources SWOT analysis might be just what your company needs!
An HR SWOT analysis can help you and your HR department (if you have one) figure out how to use your greatest resource (your employees) to help the company achieve its goals.

A SWOT analysis can help you create hiring and other strategies to achieve your short-term HR goals – like building a more engaged, efficient, and productive workforce. It can also help with your long-term goals – like building a top-tier workforce or becoming an employer of choice.
If you've never done an HR SWOT analysis and/or are trying to improve your employees' experience with your company, now is the perfect time to do one.
Look at the Internal and External Factors
Doing an HR SWOT analysis is just like doing any other SWOT analysis – you'll look at the internal factors (your strengths and weaknesses) and the external factors (your opportunities and threats) that impact your business.
Strengths
When you're looking at your HR's strengths, you'll consider
how well your hiring strategy fits your branding,
if your compensation and benefit packages are well received,
whether leadership is supporting HR's hiring and employee engagement activities,
your HR staff's knowledge and experience, and
anything else you think is a strength.
Weaknesses
When you're looking at your weaknesses, consider
whether your company has a bad reputation in the job market,
any budget constraints,
if you have high turnover rates,
if you lack training and/or onboarding resources, and
anything else you consider a weakness.
Remember, when you're looking at your company's weaknesses, don't just compare yourself to other companies. You have your own standards, so make sure your HR practices are held up to those standards.
Opportunities
When you're looking at potential opportunities for your company's HR department, consider
any new technology available,
beneficial changes in federal, state, and local employment laws,
the possibility of workforce growth due to company growth,
the possibility of higher wages due to company growth (making you a more appealing company to work for), and
community growth (allowing you to have a larger talent pool to choose from).
Threats
Of course, during an SWOT analysis, you also have to consider the threats to your company so you can have action plans in place and be prepared. When looking into threats, consider
stricter federal, state, and local employment laws,
whether any other companies in the area are hiring for similar positions and skills, and
any market reduction that could lead to layoffs in the company.
Then What?
After you've listed your strengths, weaknesses, opportunities, and threats, you can't just pat yourself on the shoulder, put the HR SWOT analysis on the shelf, and never think about it again. That doesn't do anyone any good.
Instead, use what you learned to create an action plan.
Figure out how you can use your strengths to take advantage of opportunities.
Create contingency plans in case any of your threats become a reality.
Figure out how to improve on your weaknesses to turn them into strengths.
Discover ways that you (as the owner of your company) can better support your HR department to help them build an engaged and productive workforce.