6 Tips for Dealing with Negative Reviews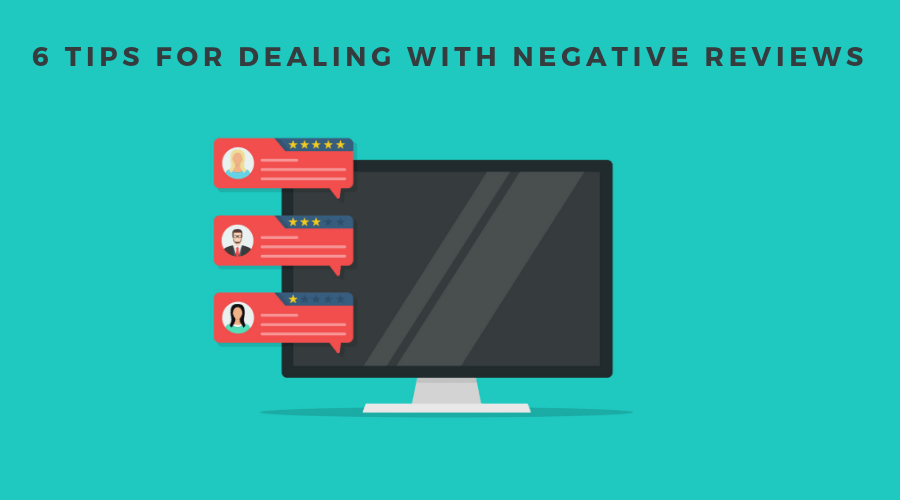 The internet is great. It helps you promote your business and reach people in your community and around the globe. It lets your customers share your business with their friends and family. Your clients can even easily leave rave reviews on your website, Google, and Facebook. But, there's a downside to how easy it is to review your business – shoppers can also leave negative reviews.
If you log into Facebook and notice that you have a negative review, don't panic. Negative reviews can help you build your business:
They'll add some legitimacy to your business. Not everyone is going to like you, so if someone comes to your page and only sees fantastic reviews, they'll think something is a little fishy.
They'll also help you figure out what areas to improve because your reviewers will tell you.
Read also: How to Maximize Online Reviews
For negative reviews to help your business, however, you have to deal with them appropriately. Here are six tips for doing just that:
1. Be a good listener
Listening to your customers can go a long way. By reading each review and paying attention to what your shoppers are saying, you'll be able to build relationships. Those relationships will increase the chance that a consumer will keep shopping with you, even if their first experience with your company wasn't great.
2. Respond Quickly
If you let reviews sit there for days without answering them, you're telling shoppers that you're not listening to them and that you don't care what they have to say.
So, respond as quickly as possible. If someone leaves you a bad review, comment letting the person know you're sorry for the bad experience and ask them to contact you so that you can fix the situation. By responding publicly, you're showing consumers that you care about everyone who does business with you. But, by speaking with the disgruntled customer privately, you're not airing anyone's dirty laundry. It's a lot easier to fix a problem and build a relationship offline.
Responding to negative reviews can help you attract new customers. Learn five more tips for attracting new shoppers. 
3. Look for Patterns
If you've had a few negative reviews, look for patterns and similarities. If everyone is complaining about the same thing, then it's probably something you need to fix.
4. Improve
Because you've been looking for patterns in your bad reviews, you'll learn what people like and dislike about your products, services, customer experience, and more. You can take what you learn to improve your business. You'll be creating a better experience for everyone, which will help your business grow. Read also: 8 Tips for Growing Your Online Business
5. Send Something
If someone had a horrible experience, and you want to smooth their ruffled feathers, feel free to send them something. It could be free samples of your products or a coupon. You don't have to do this for every negative review, or people would start complaining just to get free stuff.
6. Know When to Ignore It
Not every bad review is worth dealing with. You might decide to ignore a review because
the customer used abusive language
they've never actually shopped with you
If you run into something like this, try to get the review removed. A lot of platforms have a way for you to flag or report reviews that break the platform's rules. Be careful, though, that you're not removing legitimate reviews because that will look suspicious.