10 Easy Tips for Updating Your Resume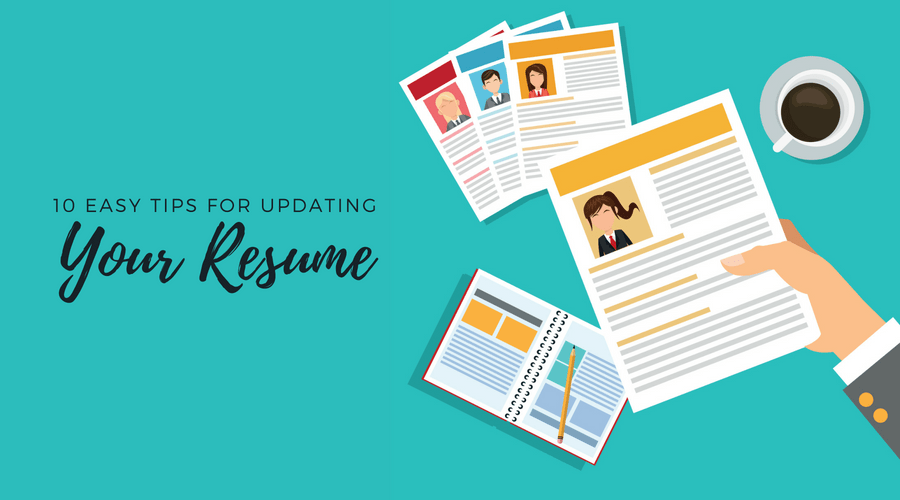 You're about to apply for a new job. Whether you're applying for a new position in your current company or trying to find something completely new, you'll need an updated resume that impressesthe hiring manager. If you haven't updated your resume in a while, it can be intimidating. Where do you start?
Don't worry – it doesn't have to take long to update your resume and get it in tip-top shape! Just check out these 10 easy tips.
1. Remove older jobs
If you've been working for 10 years or longer, you probably have quite a few jobs on your resume that aren't entirely relevant to the position you're applying to.
It can be scary to remove old positions, but do you really need to share that camp counselor job you had the summer before your senior year of high school? Probably not. Go ahead and remove older jobs, especially if they aren't relevant to your current career path.
2. Review your skills & courses
There's a good chance you've picked up some new skills or taken some continuing education classes since you last updated your resume. Don't forget to add that information. Read also: Take Control of Your Own Career Development
While you're at it, feel free to remove some skills, too. You can remove skills that you don't need in your current and future jobs. If your resume is getting a little long, you can probably remove skills that are expected in a modern office, like "proficient in Microsoft Office."
3. Add your current job
This might sound like a no-brainer, but don't forget to add your current or most recent position to your resume. It should be easy to write the description, too, since you know what you do every day.
4. Make it easy to skim
Let's be honest– most hiring managers won't read through your resume with a fine-toothed comb. Instead, they're going to scan it to make sure you mention specific keywords and have enough experience. Make it easier to skim by switching from paragraphs to bullets.
5. Doublecheck your contact information
Make sure to double and triple-check your contact information. Check that your phone number is correct, your email address is spelled correctly, and your current address is listed. If you have links to any social media profiles, click on them to make sure the links take you to the right place.
6. Move school information to the bottom
If this isn't your first job after graduation, move your school information to the very bottom of your resume. That way, the most current and relevant information is at the very top of your resume.
7. Trim it down
Unless you've been working in your chosen career field for a long time, try to keep your resume to about one page. That might sound impossible. But it's not. This is where removing those earlier work assignments and skills can come in handy.
8. Edit
Typos happen. Mistakes happen. Do you know where errors and typos should not occur? On your resume.
Carefully read through your resume and make sure there aren't any mistakes. It could be pretty embarrassing if you said you were detail-oriented but then had a typo on your resume.
After you've proofread your resume, give it to someone else you trust to be completely honest with you and ask them to read it. They'll see mistakes you didn't catch.And, they can point out if something should be rewritten or removed.
9. Save your changes
Don't forget to save your changes and pay attention to the file name. If you have it called
"resume.docx," you're going to have a hard time. The person you're sending it to is getting a lot of resumes, so make it obvious it's yours. Name it something like "firstnamelastname-resume.docx" instead.
If the job posting doesn't explicitly tell you to submit your resume as a Microsoft Word document, consider sending it as a PDF file. If you send your resume as a PDF, you'll know it looks exactly the way you intended it to, no matter what.
10. Update Your LinkedIn
Once your resume is up to date, update your LinkedIn profile. You'll want to make sure it includes your current job and any new skills because there's a good chance the hiring manager will find your profile.
After you've submitted your resume, make sure you're ready for the interview. Check out what questions to ask during your next interview.