The Guide to Digital Marketing for Small Business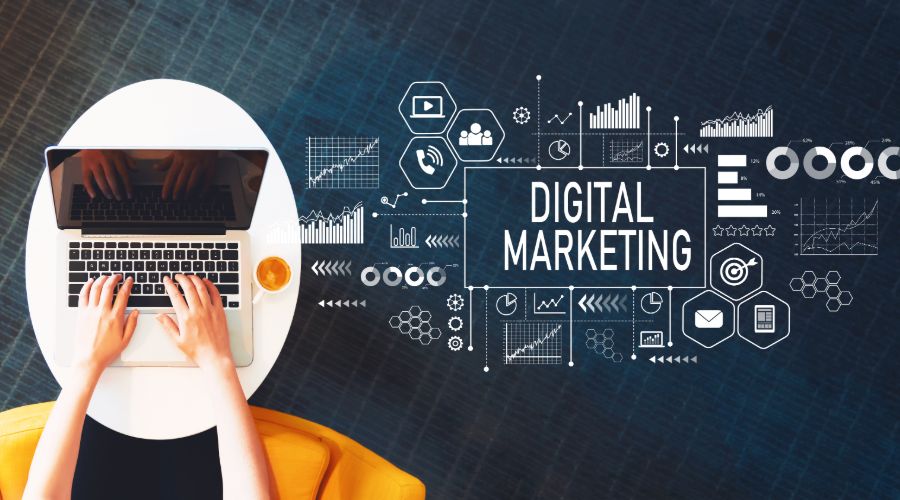 The ultimate challenge that small businesses face is staying competitive with limited resources. Pushing products and increasing brand awareness can be difficult when working on a tight budget. With marketing now almost exclusively digital, how can an up-and-coming company get its name recognized on search engines? Especially when larger companies are investing major dollars in digital marketing strategies.
Believe it or not, there are plenty of cheap – even free – digital marketing routes for your small business to take.
Sign up for Google My Business
If you want people to find your business, sign up for Google My Business. Once you do this, an entire section devoted to your company will pop up on the right side of a search engine results page (SERP). Consumers will see essential details like your address, hours of operation, directions, contact information, and company reviews. There will also be a link to your website.
Signing up for Google My Business could also get you a spot in the Local 3-Pack. You've surely come across this before when searching for nearby stores and three businesses show up at the top of a results page alongside a map pinpointing their locations. The 3-Pack is the first thing searchers see, so you'll want your business to be on it. You can strive to make that happen with high-quality search engine optimization (SEO).
Implement Google Analytics to track your website traffic
Google Analytics, which is also free, enables you to track all things related to web traffic. You'll be able to see which pages of your website and blog are performing well and which ones are not. You can monitor peak traffic times, see which demographics are navigating to your site, and track metrics – pageviews, bounce rates, and pages per session.
It's the perfect data hub for your digital marketing strategy. If you can't spend aggressively on digital marketing, you can spend wisely based on what Google Analytics tells you. The results will let you know who to advertise to and how to execute SEO and paid media– if you're willing to commit money to those marketing practices. You'll no longer be marketing blindly.
Utilize an eye-catching, easy to navigate website design
Search engine algorithms consider many aspects of a website, especially design. Google, Bing, and Yahoo will frown upon a poorly designed website that's not user-friendly. Search engines are not going to rank a site highly if visitors are turned away once they click on it. So, take the time to ensure your business's website looks professional, prioritizes information, and includes pleasant imagery to keep visitors engaged.
Responsiveness is essential, as well. With the various technology platforms in play today, your website must be formatted to mobile devices, tablets, laptops, and desktops. What happens if images aren't resized to fit an iPhone, or the menu is cut off at the top? Slow loading speeds and missing information are going to annoy visitors, so they'll likely look elsewhere for your product or service.
The good news is there are all sorts of plugins available to guarantee a responsive website.
Leverage existing contacts
You can use your existing customer base to help attract new customers.
They've already adopted your product, and there's a great chance they like what they bought. So, lean on them to bring in new customers.
Encourage satisfied customers to write reviews. You can also send emails asking for feedback, create a customer referral program, and take advantage of Facebook ads. Facebook ads can match accounts with your contacts list and send ads directly to the individuals on the list. It can also reach out to lookalike audiences, matching accounts that are similar to the ones in your current list. The advertisement opportunities are practically endless.
Become more visible by executing SEO
Most consumers rely on search engines to find products and services, so do all you can to ensure your website shows up for relevant searches. SEO is a strategy that aims to maximize the number of visitors to a website by helping it rank high on search engine results pages. It entails implementing specific keywords into web content, designing a user-friendly website, and structuring meta information in a way that will attract search engines. A first page ranking for any industry-related keyword can work wonders for your web traffic – and your business. The higher the ranking, the more people that are going to come across your business online.
You can optimize your website at no cost and install free or inexpensive plugins to do some of the SEO work for you. For example, SEMrush can help you by suggesting topic-related keyword, backlinking opportunities, and improvements for readability. The plugin is up to date with Google algorithms, so you'll be able to optimize your website easily.
Google's Keyword Planner will give you a list of keywords that align with your topic. You can also see what the monthly search volume is for each word or phrase. You can also view bidding prices for each keyword if you're interested in a pay-per-click marketing strategy.
Give visitors the information they need through content marketing
High-quality content can greatly influence consumers.It's one thing to get them to the site, but it's another to convince them to buy your products or services. Write content that is to the point and keeps the user in mind. Show off your expertise but use terms that even the novice visitor will understand. Learn more about why your small business needs content marketing.
Blogs can be more creative, as they're typically longer and more story-like. You can write blog posts to answer specific questions people are asking search engines. They're also a great way to share the benefits of your products or services.
No matter the type of content, be sure it is accurate, well-written, grammatically correct, original, and informative. Quality content takes on a vital marketing role. The smallest mistake can turn a visitor away.
Take advantage of social media
Social media has taken the world by storm. If your small business is not active on Twitter and Facebook, it's likely missing out on a big piece of the pie. Additionally, LinkedIn, Snapchat, Instagram, and YouTube can also help you reach your audience in a fun way. Learn more about social media marketing.
Alongside company updates, product releases, and sales announcements, toss in some fun images, videos, GIFs, or memes on social media. The variety of platforms gives your business the space to flaunt a light-hearted side that brings smiles and laughs to present and future customers. You can sign up for each of these platforms for free.