9 Reasons You Should Start a Business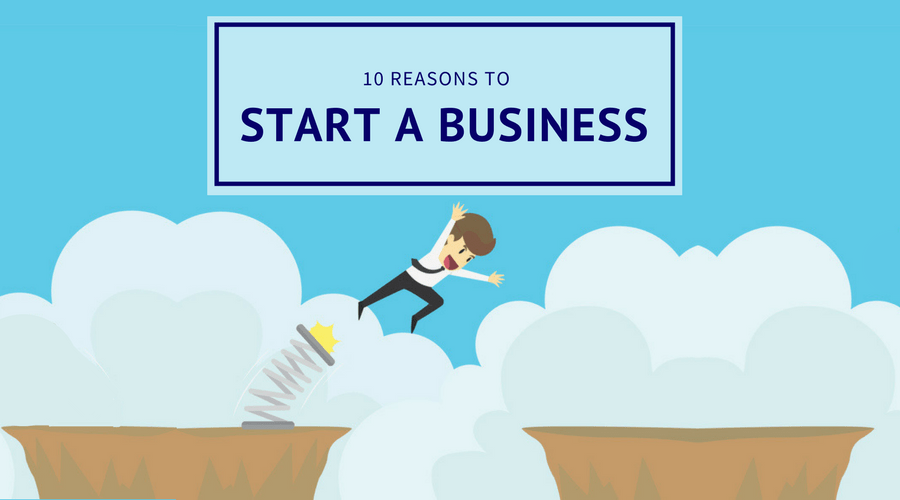 Starting a business involves diving headfirst into the unknown, which can be intimidating. If you're wondering whether entrepreneurship is for you, keep reading to learn nine reasons to start your own small business.
1. Share your brilliant idea with the world
If you have a great idea that will satisfy a need or want in your community, the best way to share it is to create it and start selling. Your product or service can make people's lives easier and more enjoyable.
2. Share your passion
When you're passionate about your idea, you'll work harder, which will help you succeed. Your passion and enthusiasm will be contagious and help attract the right customers and employees.
3. Leave the daily grind
If you are sick and tired of your 9 to 5 job and dread Monday mornings, starting your own business will pull you out of your rut. Every day will present new opportunities and challenges, so you'll look forward to going to work every day.
4. Work where and when you want
When you start a business, you can work wherever you want – your home, your favorite coffee shop, or even the beach. If you are opening an office or storefront, you can choose a location close to home to minimize your commute.
When you first start your business, you're probably going to work long hours to build your brand and product, but because you're passionate, it won't feel like work. Once you've established your company, you'll truly have the freedom to work when you want. Read also: Find the Perfect Location with These 8 Tips
5. Gain financial independence
No one else will be signing your paychecks. Your success will depend on your hard work.
6. Create your ideal work environment
When starting your own business, you have the opportunity to choose how formal (or informal) your company is and create a company culture that engages and motivates you and your employees.
7. Create jobs in your community
When you start hiring employees, you are creating new jobs in your community, which can boost your local economy. Read also: How to Hire Your First Employee
8. Receive tax benefits
There is a wide world of tax deductions available to entrepreneurs and small business owners, including home office space, mileage, supplies, and marketing materials. You can even write off some of your biggest expenses, like your start-up costs, for one.
9. Create a legacy
By starting your own business, you have the opportunity to create something lasting – something that your children and grandchildren can continue to grow.
There's no better time than now to start your own business. Learn how to start your company.