10 Affordable Perks Your Employees Want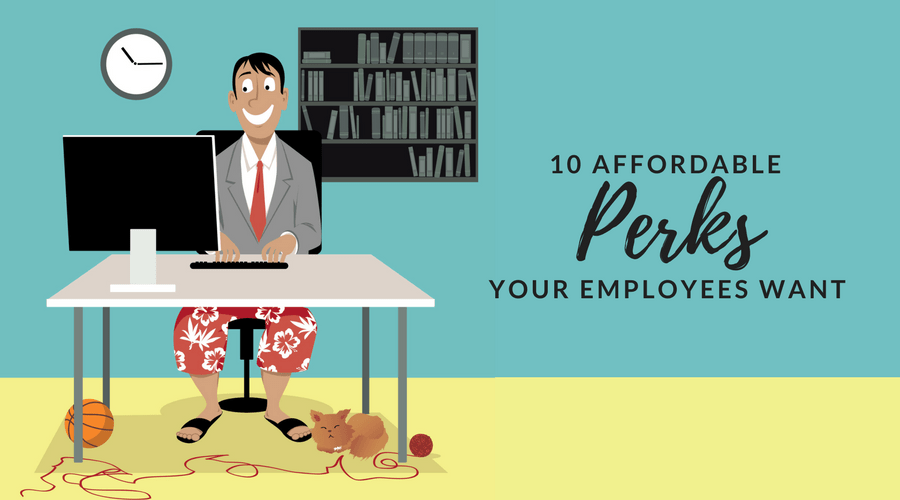 It can be difficult for small businesses to attract top talent because you can't always compete with larger companies' compensation and benefits packages. You can, however, offer more individualized perks to make working for your company more attractive and recruit skilled workers.
Perks are privileges given to an employee alongside their compensation and benefits package to make the job more enjoyable. Perks can help your team be more productive during work and can even help your staff have a healthier work-life balance. If a worker likes you, their colleagues, their work, and receives perks that suit their needs, they're more likely to stay with your company long-term. Read also: How to Prevent Good Employees from Leaving 
Instead of giving your entire staff the same perks, consider offering extra incentives in conjunction with a promotion or to entice a candidate to join your company. Your perks should appeal to your workers and match your culture, so survey your team to find out what they want.
Check out these 10 affordable perks your employees actually want.
1.
Family environment 
Treat your staff like family by being empathetic to their personal issues, listening to them if they need to talk, and giving them time off on short notice for family emergencies. By taking the time to listen and care for your workers, you'll help them feel like they're part of a community that cares.
2.
Flextime
Offer flextime to give your team a better work-life balance. Consider letting someone come in a few minutes late to take their kids to school or leave early to pick their kids up. If possible, you can also give your staff the option work from home occasionally, so they can also meet their obligations at home. Learn more about offering flextime and telecommuting. 
3.
Casual attire 
If you allow your staff the opportunity to dress more casually for work, they'll be more comfortable. Make sure to create a dress code policy, so your employees still look professional to customers.
4.
Training & development opportunities 
Your team wants to learn new skills to grow in their careers, so offer in-house workshops or reimburse employees for attending courses. You can also give your workers more responsibility, which will allow them to learn on the job while improving their skillset.
5.
Gym memberships 
If you can fit it in your budget, subsidize a portion of your employees' gym memberships. Try asking nearby gyms if they're willing to offer lower–priced memberships for your company.
If you can't afford to subsidize a gym membership, but still want your team to stay active, consider starting a softball, kickball, or volleyball league. Read also: How to Incorporate Wellness in the Workplace 
6.
Free food 
To show your appreciation for your team's hard work, occasionally bring in lunch or breakfast to say, "Thank you."
7.
Discounts
If you're a retailer, offer a staff discount on the merchandise or services you sell.
8.
Parental leave
Under the Family and Medical Leave Act (FMLA), if you have 50 or more employees in 20 or more workweeks in the current or prior year, you're required to give your workers 12 weeks of job-protected leave over a 12-month period for: 
the birth of a child and to care for a newborn

the placement of a child for adoption or foster care and to care for that child

during the first year of placement

the care of a spouse, child, or parent who has a serious health condition

a serious health condition that makes your employee unable to perform their job
You can take this one step further by offering paid (or partially paid) parental leave for new moms and dads.
9.
Volunteer days 
61 percent of workers who believe their employer encourages them to support a cause they care about are more likely to be engaged at work. You can do this by giving your team members paid days off specifically for volunteering or by offering company-wide volunteer days. Let your employees choose where the company will volunteer so they know they're impacting a cause they're passionate about. 
10.
Transparency
Obviously, there are some things in your company that your workers shouldn't know but keep them in the loop as much as possible. For example, if you know a significant change will happen soon, let your staff know in advance to give them time to adjust to the idea. When plausible, ask for your employees' input in company decisions. By including your team, they'll feel like they are genuinely part of your company's future and will stick by your longer.