What's in an Employee Handbook? [Free Download]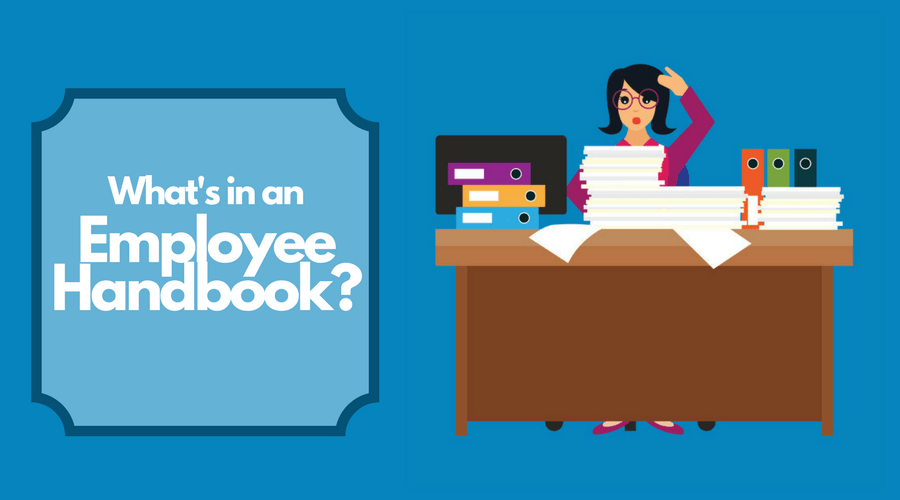 Your employee handbook is the most important communication tool between you and your team. It tells workers how they're expected to behave and what they can expect from the company. It also provides legal protections for you and staff members, so it's a good idea to have an attorney look over it before you share it.
Here are 15 sections that are typically in an employee handbook:
1. Introduction
In the introduction,
share your company's history and mission statement
describe the purpose of the handbook
reserve the right to amend, revise, or update the included policies at your discretion
You might also include an at-will employment statement, which can help prevent a court from determining you're in breach of contract for terminating a worker.
2. Anti-discrimination & anti-harassment policies
The Equal Employment Opportunity Commission (EEOC) and the Americans with Disabilities Act (ADA) prohibit discrimination and harassment for any reason. Share how you will comply with these laws by including any accommodations you'll make for religious activities and employees with disabilities and by stating that you will not discriminate during the hiring process.
Unlawful harassment occurs when an employer creates an unbearable workplace based on an employee's race, nationality, gender, or religion. Let your staff know how to report harassment and state how you will respond to complaints and the consequences for failing to report. Include a zero-tolerance policy for managers who fail to respond to a harassment complaint appropriately.
Read also: 7 Employee Handbook Rules and Regulations to Stay Compliant in 2019
3. Non-disclosure agreement & conflict of interest statement
A non-disclosure agreement can help protect your trade secrets by stating what information cannot be shared outside the company. A conflict of interest statement can help protect your company from lawsuits by prohibiting workers from having a direct interest in businesses that compete with yours, sell to your company, or buys from you.
4. Compensation
Share essential information about your staff's pay, including:
how often you'll pay your team
your legal obligations concerning overtime pay
what deductions you'll withhold from their paychecks, including federal and state taxes and voluntary deductions
performance reviews
salary increases
time-keeping procedures
bonus compensation
when you'll pay workers when they leave your company
5. Work Schedules
Explain when you expect your team to work and how many hours full-time and part-time staff will typically work. Make sure to include attendance requirements, punctuality expectations, and how to report absences. Define excessive absenteeism and chronic lateness, so everyone is on the same page.
6. Standards of conduct
Your standards of conduct should include
a code of conduct
your dress code
how to care for company-owned equipment
your discipline policy
7. General employment information
This section will consist of miscellaneous policies, including
employment eligibility
definitions of full-time, part-time, and temporary workers
classification of workers as exempt or non-exempt from overtime
information concerning personnel files
termination and resignation procedures
8. Safety & security
Describe what your business is doing to create a safe and healthy workplace, including complying with Occupational Safety and Health Administration (OSHA) policies. Make sure your staff knows where to find first aid kids and fire extinguishers, how to report injuries and accidents, and what your emergency procedures are.
Explain how your team can help mitigate dangers by ensuring the workplace is safe and secure and reporting any suspicious behavior.
9. Computer & internet usage
Computer and internet usage are necessary for conducting business. Include policies for appropriate computer and software use and what steps your staff needs to take to secure information, particularly customer data. Include a statement regarding the company's right to monitor employees' use of communication systems, including phone calls, company email, and internet use on a company computer.
You might also include a social media policy forbidding the unlawful harassment of customers on social media.
10. Media relations
Discuss how your employees should handle any media inquiries. For example, you might have a single point of contact for media inquiries to ensure cohesion and prevent your company from being misrepresented.
11. Employee benefits
Use this section to describe all benefits programs offered and eligibility requirements.
12. Leave
Discuss all time-off policies, including how much time off will be given and procedures for requesting leave. Time-off policies can include
jury duty
FMLA
military leave
sick leave
vacation time
Learn more about what to include in your time off policies.
13. Holidays
Under federal law, you are not required to pay your workers if you close your office for a holiday. To prevent confusion, specify all paid and unpaid holidays.
14. Drug, alcohol & smoking policies
Include a statement that drug and alcohol use is not permitted on the premises and explain the consequences if a team member uses drugs or alcohol on site. If you allow smoking on the premises, make sure your staff knows where smoking is permitted.
15. Acknowledgments
At the end of your employee handbook, include acknowledgments for your workers to sign saying that they have read and understood the handbook. Include a general acknowledgment, as well as specific acknowledgments for computer and internet usage and your drug and alcohol policy.