13 Tips for Getting Paid on Time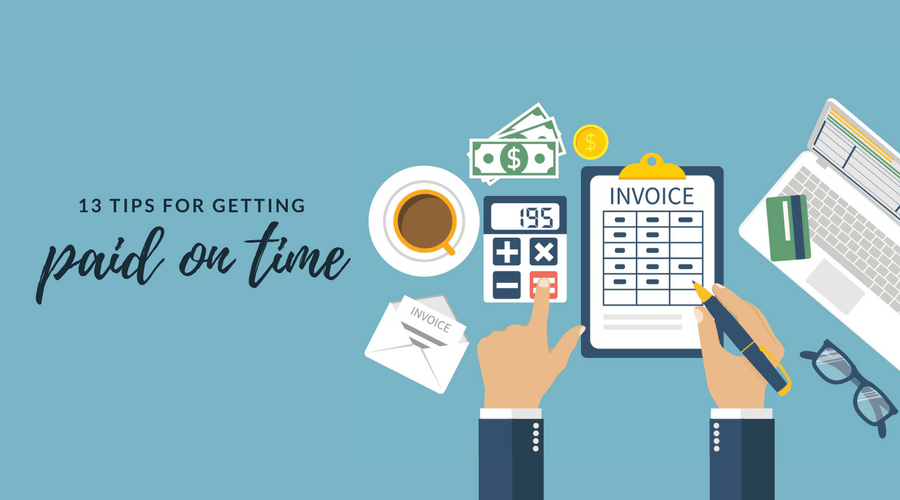 You spoke with your customer almost every day while working on their project. Now that you've sent the invoice, they haven't paid you and won't answer the phone. Not getting paid on time is one of the biggest challenges you'll face as a small business owner, and it can cause some serious cash flow problems. It can be frustrating to have to wait to get paid or to have to remind clients repeatedly that they still owe you money. But, there are steps you can take to get paid on-time more often.
1. Discuss expectations upfront
No one likes surprises, especially when they involve money. So, before beginning a project, discuss everything in detail, including when you
will have deliverables to them
will invoice them
expect payment
After the initial conversation, send them an estimate, so they're prepared for the final bill.
2. Communicate any changes
You might have given your client an initial assessment, but now you're halfway through the project and have realized that it's going to take more materials or time than originally expected. Don't just assume your customer is going to be okay with the price increase. Instead, let them know immediately about the changes, so they aren't blindsided later.
3. Ask if they need a Form W-9
Some companies require you to submit a W-9 form before they can pay you. Instead of waiting to see if they need one, ask them before you send a bill. By being proactive, you'll likely get paid faster.
Read also: What is Tax Form W-9: Request for Taxpayer Identification Number and Certification?
4. Send invoices quickly
After you've finished a project for a client, send the bill as soon as possible to prevent payment delays.
5. Offer multiple payment methods
You might prefer that your customers pay you by check because you don't want to pay the fees associated with accepting credit cards. But not everyone will want to pay by check. People are more likely to pay you on time if they can pay using their preferred method. By offering multiple payment methods, like checks, cash, or credit card, you'll make it easier for your clients to pay you.
Read also: Are You Accepting Credit Cards? Follow These 25 Best Practices
6. Use an integrated platform
Find invoicing software that allows you to send invoices and track payments. You'll be able to see who still owes you money at a glance.
7. Be skeptical
If it sounds too good to be true, it probably is. Be cautious when working with a new customer, particularly if they ask for a high-value service to be rushed. To prevent misunderstandings or sticky situations, ask questions to get to know the client better and research them before agreeing to work with them. It's better to get to know them upfront than getting stuck with an unpaid bill later.
8. Make invoices easy to understand
When you're creating your bills, make sure that they're easy to understand and try to avoid industry jargon. For example, say, "due within 30 days," instead of "net 30." You'll eliminate a lot of confusion this way.
9. Itemize invoices
On every bill, include an itemized breakdown of every product and/or service. Your client will be able to see precisely what they're paying for, which will eliminate a lot of concerns.
10. Don't go straight to collections
If an invoice is over 90 days past due, you might think that turning it over to collections is the only way you'll get paid. Use a collections agency only as a last resort because you'll only get a fraction of what you're owed. First, try one of these methods:
If your contact at the company won't return your calls, try someone else. You might be able to talk directly with the accounting manager and get paid without any problems.
If you have a contract, use an arbitration board to file a case against your customer.
If your client wants to pay but is having cash flow problems, consider setting up a short three or six-month payment plan for them.
Find out your state's maximum for small claims court – typically between $2,500 and $15,000. If the amount owed is less than that, take your customer to small claims court. That way, you can represent yourself without hiring an attorney
If you're owed more than the maximum allowed by small claims court, hire an attorney and file a lawsuit against your client.
11. Offer discounts or charge penalties
Consider offering a discount to anyone who pays their balance before the due date. For example, you could offer a 1% or 2% discount if the total bill is paid within 10 days. But, not everyone will be motivated by a price reduction. If offering an incentive doesn't work, consider charging a penalty on any invoices paid 10 or more days past the due date.
12. Be polite
If your customer has missed their due date, don't immediately start threatening them. First, make sure everything is right on your end.
Did you remember to send the invoice?
Were the payment terms clear?
Was it obvious how much was due?
Did the right person receive the bill?
If you've done everything correctly, give your client a call or send them an email to check in with them. The invoice may have just slipped their mind, and they just need a friendly reminder.
13. Have reminder procedures
Don't assume that every client is going to remember when they need to pay you. Instead, regularly send out reminders to follow up with anyone who missed the due date. For example, if a payment is due within 30 days, remind your customer at the 45-day mark and again the following week.