9 Simple Ways to Motivate Your Part-Time Employees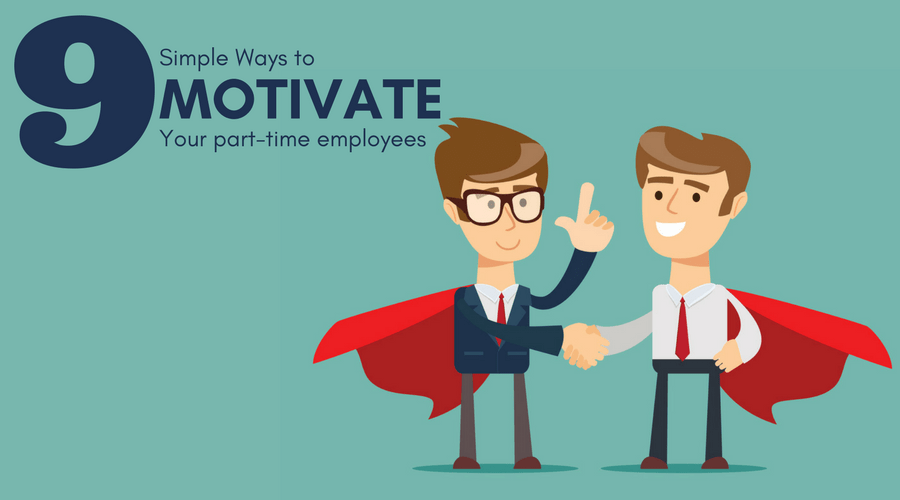 Often, it's a lot easier for a part-time employee to walk away from a job than a full-time staff member. How can you motivate your part-time workers, so they stick around longer? Try these nine simple solutions that won't break the bank.
1. Offer benefits
Most part-time team members don't expect to get many benefits, so surprise them by offering some. You don't have to provide the same ones as your full-time staff, but you can choose a few perks that won't cost too much – like continuing education opportunities or basic dental insurance.
Read also: What Benefits Should I Provide My Employees?
2. Give employee discounts
If you sell products or services that your employees purchase, reward them for their hard work with a generous discount.
3. Celebrate milestones
Because you don't see your part-time staff as often as your full-time workers, it can be easy to forget important milestones. Show your part-time team you care by celebrating their big milestones – like work anniversaries and birthdays.
The celebrations don't have to be big – just showing you remembered can go a long way. Bring in cupcakes, give them a gift card to their favorite restaurant, or have their coworkers sign a card.
Read also: 17 Employee Gift Ideas Under $30
4. Get to know them
Spend one-on-one time with each of your part-time workers. Learn what makes them tick, what they enjoy doing outside of work, and where they want to go with their career. By getting to know them, you'll be able to learn the best way to motivate them.
5. Encourage friendships
Whether intentional or not, your full-time staff might look down on their part-time coworkers. Make sure that everyone knows that they're essential to the company and contributing to its success.
Give everyone an opportunity to build friendships with each other. Consider matching each part-time worker with a full-time team member as a buddy to give them a chance to get to know each other.
Read also: 6 Ways to Encourage Friendships at Work
6. Be flexible
Many of your part-time workers may have demanding schedules outside of work. Be as flexible as possible to work around their appointments, classes, etc.
7. Listen
Just because an employee is part-time doesn't mean that their ideas and input aren't valuable. Make sure to listen to any opinions and suggestions your part-time staff members offer. Otherwise, you might be missing out on something great.
8. Provide new challenges
Just like your full-time team, part-time workers want to be challenged in their jobs. Give them opportunities to tackle new projects.
9. Appreciate them
Make sure to show your part-time employees know that you appreciate their hard work. Simply saying, "Thank you" can go a long way. Learn how to show your staff that you're grateful for them.