5 Tips for Building a Strong Culture When Your Employees Work from Home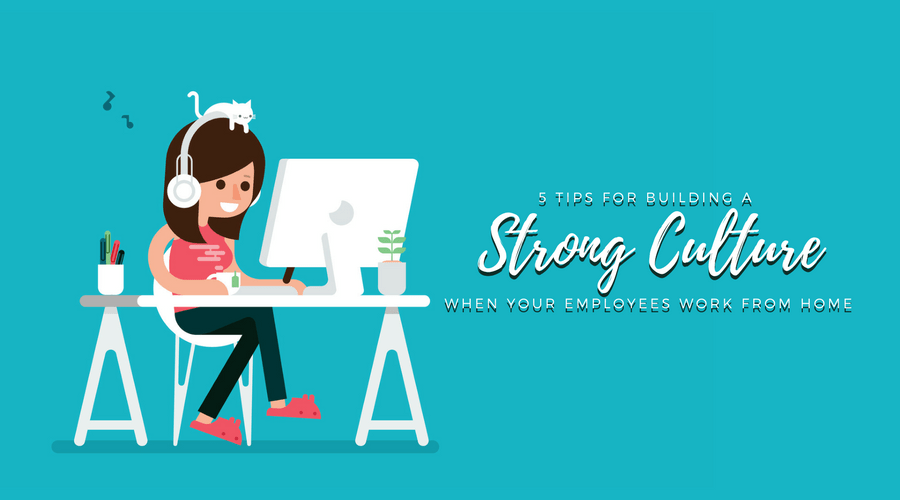 When you're thinking about building a company culture, you probably think of it being tied to your company's physical location. But, what happens if your entire team works from home? A remote culture is still important!
Building a culture for your remote staff takes work and planning. Remember, a culture is not the perks you give employees – it's your values and mission.
Hire People Who Thrive in a Remote Environment
Not everyone is cut out to work from home, so when you're hiring someone, make sure they'll thrive in a remote environment.
Find people that not only are more productive out of the office, but also align with your values and connect with your mission.
Get Together Occasionally
Seeing each other face-to-face is a great opportunity to brainstorm, goal plan, and just get to know each other. So, it's important to get together, in person, at least once a year.
Since you and your employees don't see each other every day, you'll be really excited about getting together in person.
When you get together, you'll of course pack the retreat full of meetings, work, and brainstorming sessions, but don't forget to also celebrate the fact that you're all together.
Celebrate Milestones
If your employees were all in the same office, you'd probably celebrate their birthdays, new babies, and work anniversaries. Just because everybody doesn't work at the office, doesn't mean you should stop celebrating those things – you are all still a team, after all.
You can send your employees a gift card to their favorite restaurant on their birthday or other important milestones.
And, when you hire someone new, you can mail them a New Hire Survival Kit – complete with company gear, office supplies, and anything else they need to feel like part of the team.
Talk about Non-Work Stuff
When you're in an office setting, you'll talk about more than just work. Don't prevent those random conversations from happening, just because your team doesn't run into each other in the halls or breakroom.
To have a productive remote team, you'll all have to be in constant communication, but if you only talk about work, you'll never get to know each other (which could lead to employees leaving the company).
Go ahead and setup a watercooler channel on Slack (or whatever messaging system you use) so your team can talk about anything they want.
Buddy Up
Figuring out a new company and job is always difficult. But, if the whole team is remote, it's even more difficult for new hires to feel connected to the company.
When you hire someone new, assign them a buddy – someone to show them the ropes and be a friend. Your new hire will immediately feel connected and will stick around longer.