9 Funding Sources for Your Small Business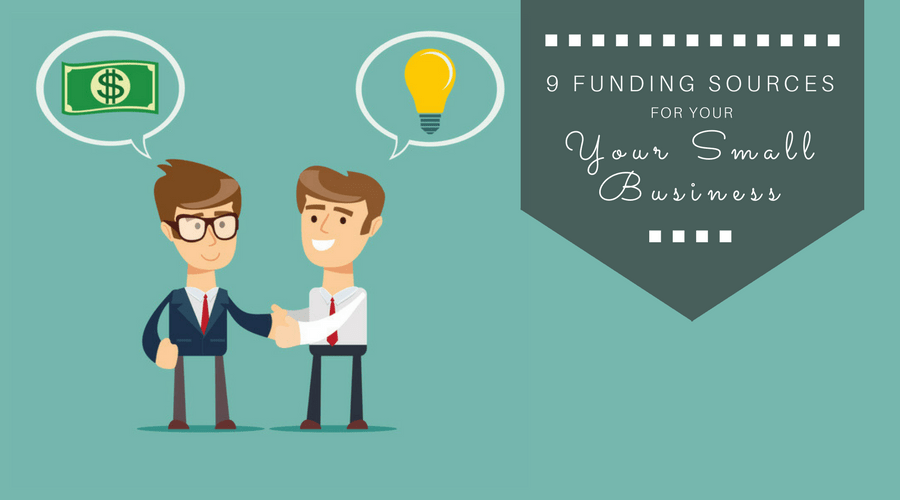 It can be expensive to start a business, so it's important to know your funding options before starting.
When considering what type of funding is right for your business, consider a few questions:
How much money do I need?
Can I offer collateral?
Am I looking for debt or equity financing?
How good is my business credit rating and personal credit rating?
How long have I been in business?
What is my revenue?
Your answers will determine what type of financing is best for your business.
1. Personal Savings
Before looking for financing, determine if you have personal savings you can use. If you're able to use personal savings, you won't have to worry about debt liabilities or selling equity in your company.
2. Partners
If you don't have personal savings, or don't have enough savings, you can consider taking on a partner. It's up to you to decide if you want a partner who wants to take a passive role in the company or be part of the decision-making process.
3. Friends & Family
You also have the option of asking friends and family to help fund your business. Although doing this is a low-cost source of funding, it creates an emotional liability, which can be tricky to handle. Business requires making rational decisions, but relationships are based on emotions, so make sure to have a legal agreement explaining the terms.
4. Loans
Taking out a bank loan is a more traditional way to fund your business. A bank will provide you with a specific amount that you'll have to repay on a predetermined schedule or through monthly principal and interest payments. Most bank loans will have a fixed interest rate throughout the life of the loan.
If you decide to take out a loan, make sure that you read and understand the contract to know when your payments are due, what your interest rate is, and if you have to pay any other fees.
When you apply for a loan from a local bank, you'll have to provide collateral. This could be your house or inventory. If you're not able to make your payments, you may lose your house, your inventory, or your sales.
5. Credit Cards
If you're not able to offer collateral, consider funding your business through credit cards. Many banks offer business credit cards, but if you don't have a business credit rating yet, you may have to resort to using personal credit cards.
Because you don't have to offer collateral, interest rates on credit cards are higher than interest rates on loans. Interest rates on credit cards can also change over time, so try to make more than the minimum payment to stay ahead.
6. Crowdfunding
Crowdfunding has become a more and more popular source of funding for small businesses. In 2015, over $34 billion was raised through crowdfunding.
Crowdfunding allows you to raise money from a lot of people at once, but you should offer something in return for support. You can offer free products or unlisted company shares, which has been made easier through the Jumpstart Our Business Startups (JOBS) Act.
There are several advantages and disadvantages to consider before deciding to crowdfund your business.
Pros of Crowdfunding
Instant Publicity – Investors will come to you, unlike traditional investors, who you have to spend time and energy seeking out. If people genuinely like your business idea, they'll share it on their social media pages, which will lead to even more publicity.
Investor Engagement – Investors and potential investors can ask you questions through crowdfunding websites, so you'll build a community before you ever launch your business.
Low Barrier to Entry – Anyone can post their project idea to a crowdfunding website, so you don't have to worry about meeting application requirements.
Critical Feedback – You'll be able to evaluate your idea based on how many investors you attract and how quickly you attract them. If you gain a lot of interest quickly, your business has a good chance of being successful.
Cons of Crowdfunding
Risk of Losing Your Intellectual Property – Because your business idea is posted to a public website, someone can steal your idea. Before posting your business, file any patent, trademark, and copyright paperwork necessary to protect your business.
Investor Engagement – Being able to interact with investors and potential investors online is a double-edged sword. If someone criticizes your idea, and you don't respond well, it might damage your reputation. Make sure that you're willing and able to handle criticism well.
Loss of Brand Value – You can easily gain a poor reputation by posting your business to an untrustworthy crowdfunding website or by appearing unprofessional in your appeal. Make sure you research the crowdfunding website to ensure that it's reputable. You'll want your appeal to be as professional and well-presented as if you had pitched to a bank. You can also gain a poor reputation by not fulfilling your obligations to investors, so make sure you'll be able to fill those obligations before raising any funds.
7. State or Federal Funding
You may be able to earn grants from the federal government or your state government, but your options may be limited based on your size, location, or industry.
Unlike loans, grants never have to be repaid, which frees up initial capital that you can reinvest in your business to help it grow.
8. Startup Programs
Startup programs, such as incubators, provide you with information, resources, and funding opportunities that you would not have access to on your own. You can find startup programs through the National Business Incubation Association.
9. Venture Capital
Venture capital is a type of equity financing for companies that can't gain financing through banks because of their size, assets, or stage of development. You can request financing through venture capital firms. These firms usually focus on young, high-risk companies with high-growth potential.
Venture capitalists make cash investments in exchange for shares and an active role in your company.
If you want to get a venture capital firm's attention, ensure your product or service solves a problem. You should also know everything you can about your competitors, market, legal environment, and financial standing.
If you want to start a business and believe that your product or service is worth spending money on, there are plenty of funding resources out there, you just have to decide what is best for the future of your company.