7 Ways to Show Your Customers You're Thankful for Them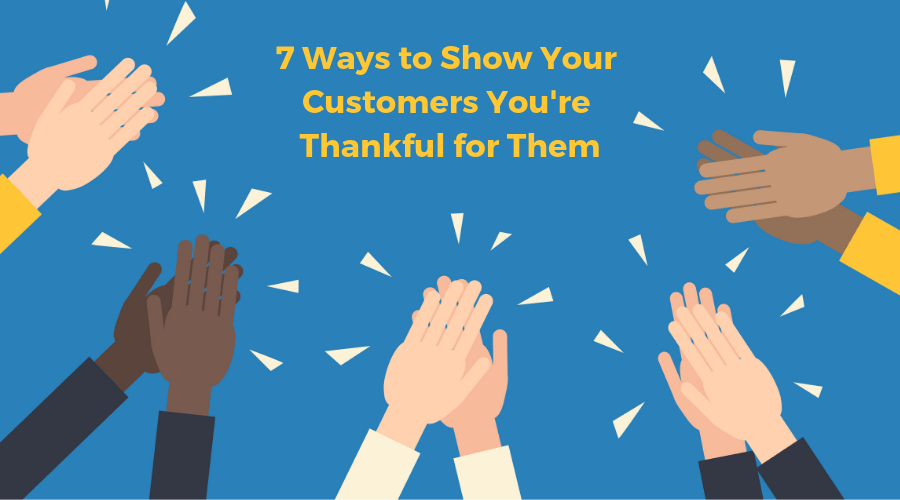 If you want to keep your clients happy and build long-term relationships with them, then customer appreciation is crucial. If a shopper knows that you care about them and appreciate their business, they're much more likely to work with you for a long time. Check out these seven ways to show your customers that you're thankful for them.
1. Send a thank-you note
A handwritten note makes a great impression. It doesn't have to be long-winded – just tell your customers how much you appreciate their business and consider including a coupon code or exclusive discount.
2. Host a VIP event
You have lots of options here, depending on what your most loyal shoppers would like most:
keep the store open late around the holidays so your best patrons can shop without the crowds
host a holiday party for your most loyal clients
host a free lunch and to teach your best customers a new way to use your products
3. Showcase your customers online
Introduce your best shoppers on your small business's blog or social media accounts. You can do this by
posting your patrons' pictures of them shopping in your store or using your products
asking a client to take over your social media account for the day
including an interview with your customer on your blog
4. Start a loyalty program
If you don't already have a loyalty program, start one. Then, invite your best customers to join it so they can get exclusive discounts and sneak peeks at future products.
Read also: Building Customer Loyalty Programs for Small Business: 3 Tips for Success
5. Treat your customers to coffee
Buy a gift card to Starbucks or your local coffee shop. Then, share the code on your Instagram or Facebook account. Let your followers buy coffee on you until the card is empty. There's a good chance your most loyal customers will see the code first so that they can grab their morning coffee for free. They might even snap a picture thanking you.
Read also: 5 Ways to Maximize Word-of-Mouth Marketing
6. Offer a free upgrade
Surprise your loyal clients by upgrading their next service for free or throwing in a small gift with their next purchase. For example, if you own a clothing boutique, you might give shoppers free lipstick when they buy a new dress.
7. Implement their suggestions
If a customer suggests a change or addition to your business, and you implement their ideas, let them know. This will show them that you listen to them and their feedback matters. Learn more about how customer feedback can help your business grow.