25 Questions to Ask on Your Next Employee Satisfaction Survey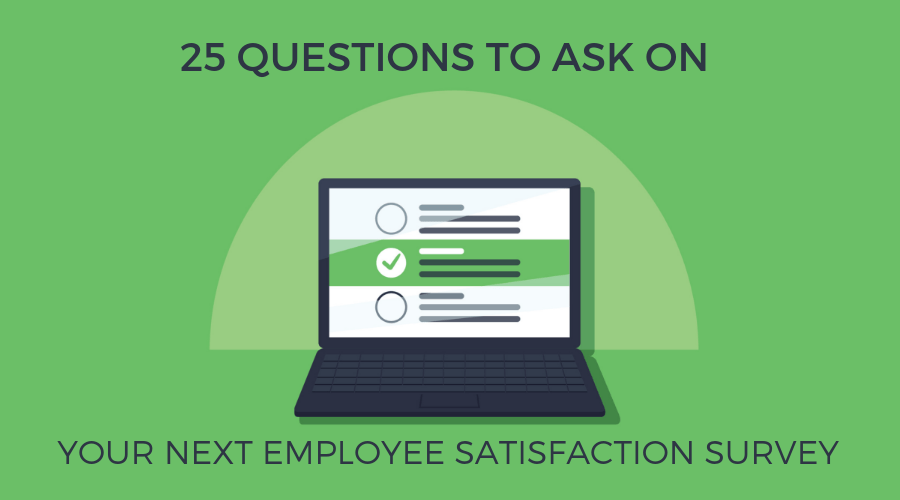 How do you know that your workers are happy with their jobs and like working for your company? You ask them! But, not every team member is going to feel comfortable telling you how things are really going. You can take some of the pressure off them by sending out employee surveys.
Employee satisfaction questionnaires help you find out how your staff is doing, without putting anyone on the spot. You can find out what areas of your business should be improved, if everyone is on board with the direction the company is taking, and if your workers think they have what they need to do their jobs.
What questions should you ask your team? Here are 25 questions to help you create your survey:
Do you believe in the mission statement and values of the company?
Do you believe your personal values align with the company's values?
On a scale from 1 to 10, how likely are you to recommend working for this company to a friend?
Do you have access to the tools and resources you need to do your job well?
Do you think the company's environment reflects the company's culture? How could the workplace be changed to reflect the culture better?
Are you happy with how frequently you receive recognition for your work?
How do you like to have your work and achievements recognized?
Do you feel like leadership values and listens to your feedback and ideas?
Do you feel like you have a healthy work-life balance?
What can the company do to improve your work-life balance?
Do you feel like your work actively contributes to the company's goals?
Do you feel like you have a clear picture of your duties and responsibilities?
Does the company give you enough opportunities to improve your skills and learn new skills?
How would you describe your relationship with your manager?
Can you count on your coworkers for help when you need it?
Do you consider anyone at work a friend?
On a scale from 1 to 10, how happy are you usually at work?
Do you have a clear picture of your career path?
If you could, would you reapply for your current position, knowing what you know now?
Describe our company culture in 3 words.
Without looking, what are our core values?
What do you like most about working here?
What do you like least about working here?
Do you have fun at work?
What process or processes should we improve (like onboarding, performance reviews, training, etc.)?
The questionnaire is just the first step, though. Encourage your team members to talk to you openly year-round. If you make them feel heard and valued, your workers will be willing to tell you how things are going.
Read also: 7 Tips for Creating a Feedback-Rich Culture
3 tips for creating effective surveys
Sending out an employee satisfaction survey just for the sake of sending one out won't do you much good. So, determine why you're sending out the questionnaire. Maybe you want to know
if your staff is connected to your company culture
if your team members are getting the opportunities they need to grow
what their relationships with their coworkers and managers are like
After you've figured out whyyou're writing an employee satisfaction survey, use the following tips to make them more useful, so they can help you make better business decisions.
Ask open-ended questions – Questions that require a "yes or no" or "On a scale from 1 to 10" answers are great, but they won't show you the whole picture. So, throw some open-ended questions in the mix. These questions allow your workers to expand on their answers and help you see the complete picture.
Consider making the surveys anonymous – With small businesses, it can be hard to make a questionnaire completely anonymous because you know everyone's writing styles and personalities. So, try not to think too much about who may have submitted each survey. By making them anonymous, you're making it easier for your team to tell you the whole truth without fear of retribution. So, you'll be more likely to get 100% participation.
Take your staff's suggestions seriously – After you've received the completed questionnaires, don't just let them sit there collecting dust. Instead, do something with them. There's a good chance that you'll see patterns emerge so you know where the company should change. Take each suggestion seriously and put an action plan in place, if necessary. Learn more about how to respond to employee satisfaction surveys.