6 Things to Learn from Glassdoor's 100 Best Places to Work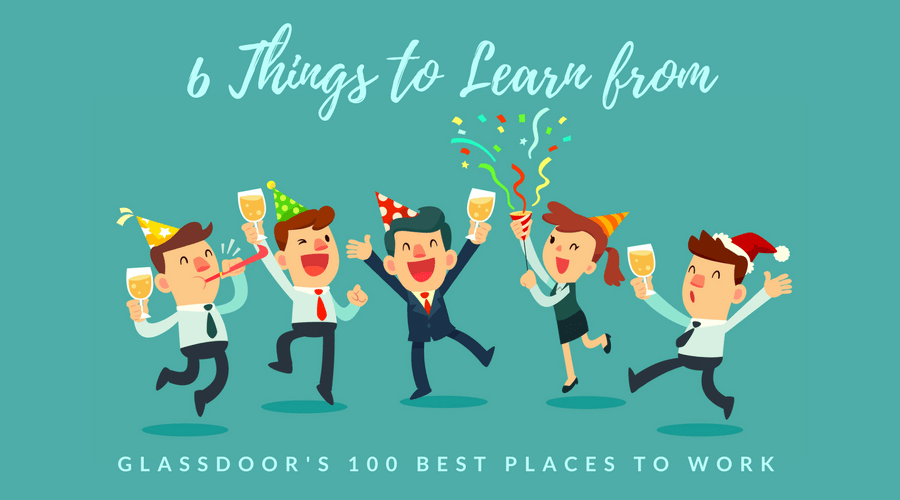 Each year, Glassdoor announces the top 100 places to work. The list is based entirely on employee reviews, so you can learn what's important to employees and try to implement it in your own business.
What You Can Learn from the Best Places to Work
Although each company on the list is incredibly different, they all have a few things in common.
A Mission Your Employees Believe In
When the company has a mission statement that your employees can believe in, then your employees have a sense of purpose and know that the work they're doing is making an impact on the company and the community. The mission inspires your employees to work harder.
A Transparent Leadership Team
If your leadership team is transparent, open, and honest with your employees, then your employees will appreciate and respect you more.
If you're clear about what the leadership team's role and responsibility is, then your employees will know who to turn to with questions. Your employees will also feel comfortable coming to the leadership team with concerns and feedback.
An Employee-Focused Culture
A top company to work for not only wants their employees to do their best work, they provide their employees with the tools needed to do that. If your company lets your employees know that they are an important part of the business and puts your employees first, then your employees will work harder for you.
A Motivated Staff
When you're hiring new team members, make sure to hire highly motivated individuals. If one person is motivated, the rest of your team will follow-suit because they'll see the motivated employees working hard and getting promotions.
A Competitive Perks & Benefits Package
A new hire may have chosen to work for your company because of the perks, benefits, and salary you offer.
When you're first starting out, you might not be able to compete with larger companies' salary packages, but you can provide benefits and perks that help you compete.
An Emphasis on Growth & Professional Development
When someone takes a job, they don't expect to be in that role for the rest of their career. They want opportunities to grow and advance. Top companies let their employees know how they can advance and provide them with plenty of opportunities to learn new skills.
To become a top company to work for, work with each of your employees to create a career path for them and help them look for growth and development opportunities.
Glassdoor's Best Small & Medium Businesses to Work
According to Glassdoor, a company is eligible to be a top small or medium business if the business has fewer than 1,000 employees and at least 25 employee ratings.