Onboarding 101 [Free Download]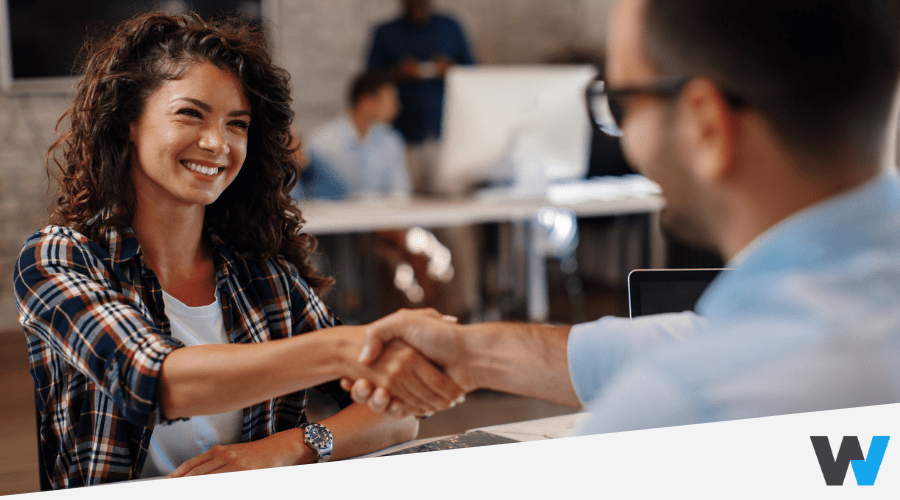 Onboarding is essential for ensuring your team members start off on the right foot. It gives your new hires the tools they need to be successful.
Too often, new staff members are given a mountain of paperwork and shown their workstation, then let loose. This can lead to poor performance, unhappy workers, and high employee turnover. According to the Society of Human Resource Management (SHRM), people who have a great onboarding experience are 69 percent more likely to stay with the company for three years.
By investing time and energy into your new hire's training during their first three months, you can end up with an employee who is loyal, reliable, and productive. Keep reading to learn how to create an engaging onboarding experience.
Before your new hire starts
To help your new employee feel like part of your team immediately, start your onboarding process before they even begin working for you. Do these four things before day one.
Stay in contact. Relieve some of their first-day jitters by sending your new worker an agenda for their first week, so they know what to expect.
Send paperwork in advance. Don't make your new hire spend hours filling out paperwork. Instead, send them everything they need beforehand. If you use a digital onboarding system, your new team member will have everything they need as soon as they set up their account.
Set up their workstation. Make sure your new hire has access to their computer, email, and phone as soon as they get to work. You might even consider placing branded items (like t-shirts or pens) on their desk, so they know you're excited to have them.
Tell your current staff. Send an email to your existing team to let them know they'll have a new coworker soon and tell them what position the new person will be taking.
Your new hire's first week
During your employee's initial week, try to make onboarding as simple as possible. Make the following four things happen:
Give them a tour. Introduce them to their coworkers as you pass each desk or office.
Share your culture. Start introducing your company culture right away by sharing your mission statement and core values. Consider asking other members of your team to share this information because they can tell your new hire more about your business's norms. Your new staff member will be less intimidated and more likely to ask questions.
Discuss expectations. Set aside time during your new worker's first week to discuss what you expect of them and what they can expect from your company. Talk about their job description and responsibilities, essential processes (like email and phone protocol), and benefits information.
Set goals. Make sure your new hire meets with their supervisor so they can start setting short-term and long-term goals. The worker's supervisor can learn more about the worker's career plans and start thinking about growth and advancement opportunities.
Read also: Tips for Making a New Employee's First Week Successful
Your new hire's first 90 days
Onboarding a new employee shouldn't be over after a couple of days or weeks. Do the following three things to ensure they're on the right path and have learned all the ins and outs of your company:
Encourage job shadowing. Allowing your new hire to shadow their coworkers gives them a chance to learn every aspect of your business. They'll also be able to understand better how their role affects the rest of the company.
Hold regular follow-up meetings. Throughout the employee's first three months, get together with them regularly to make sure they understand their role and are meeting expectations. These meetings will also help you ensure that the onboarding process is effective and that the employee is becoming engaged with their new workplace.
Conduct a performance review. During their performance review, talk about what projects they've been handling to make sure they have begun to take on all their responsibilities. This will give you a chance to nip any problems in the bud, while also celebrating their strengths and accomplishments. Your new worker will have the opportunity to discuss their concerns, ask any questions, and present new ideas.
Read also: How to Retain Employees: 5 Tips to Stop Your Employee from Leaving in the First 90 Days