5 Steps to Giving Out Year-End Bonuses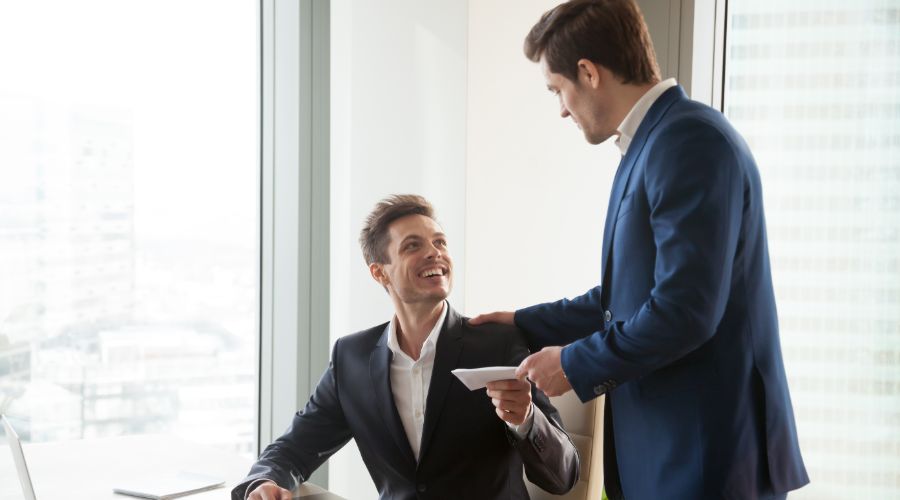 Your staff has a lot to look forward to at the end of the year – holiday parties, gift exchanges, and a few days off work. Give them one more thing to look forward to by giving out year-end bonuses. There's a lot that goes into writing bonus checks at the end of the year, so follow these five steps to make the process easier.
1. Decide who you want to help you
There are a lot of decisions that go into giving out bonuses, including who gets them and how much each check will be. Instead of trying to handle it all yourself, ask someone to help you make those difficult decisions. You might solicit help from your HR specialist, payroll specialist, or managers.
2. Choose who's receiving a bonus
After you've determined who will help you make bonus-related decisions, decide who is going to receive a bonus. You might choose to give them to everyone on your team or just your top performers.
3. Determine a goal for giving out bonuses
There are several reasons you might give year-end bonuses, including to
boost morale and employee retention 
thank your employees for all their hard work throughout the year 
improve year-end productivity 
4. Choose bonus amounts
Once you know your overall goal for handing out bonuses, it will be easier to determine how much you're going to give. Of course, this will also be affected by your budget. Generally, there are four types of bonuses:
Same amount per person – If you're giving bonuses to boost morale, consider giving everyone the same amount. If your staff members are salaried, you could give each person a percentage of their annual salary, instead of a set amount.
Performance-based – If you want to thank your employees for their hard work throughout the year, consider performance-based bonuses. You can give bonuses to employees who met their goals and bigger bonuses to workers who exceeded expectations. Read also: 6 Steps for Successful Performance Reviews
Profit-sharing – Productivity often dips at the end of the year, so if you want to boost end-of-the-year productivity, consider sharing your profits with your staff. This encourages your personnel to think about your company's goals. For example, if you expect to make $100,000, tell your team that you'll split 10 percent of anything over that amount equally among them.
Non-monetary – If you want to give your workforce something extra at the end of the year but don't have the budget to write checks, consider non-monetary bonuses. You might be able to give everyone an extra vacation day or treat them to a catered lunch. Read also: 17 Ways to Show Your Employees You Appreciate Them
5. Hand out checks
After you've decided how much each bonus should be, you can write checks. If you write them by hand, don't forget to track the payments and add them to your payroll tax forms. Or, you can use Workful to pay your staff faster, making the holidays a little more special for your team and easier for you.