A Step-by-Step Guide to New Hire Onboarding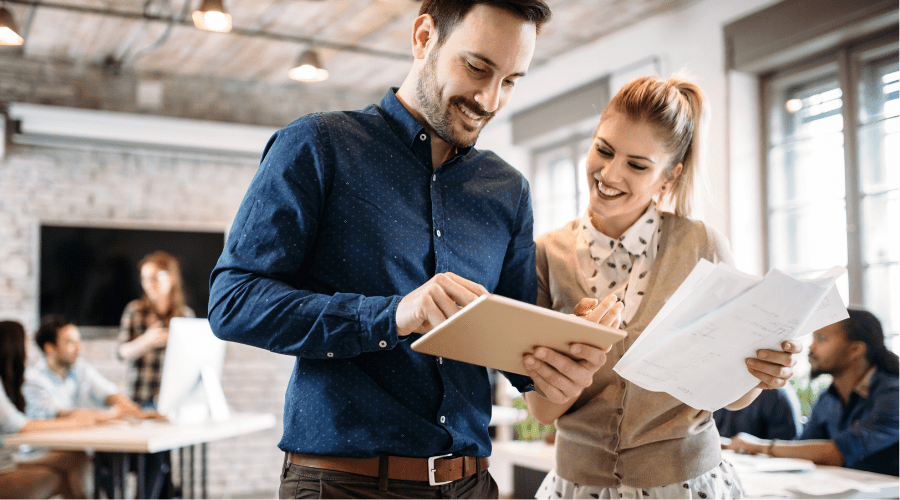 Employee onboarding is the process of introducing new hires to your company and giving them the resources to become a productive member of your small business team. Onboarding can relieve some of the stress of being in a new environment and encourage your new hire to stay with your company longer.
An onboarding process can help you build a thriving workforce by addressing four main areas:
Compliance, which confirms your new employees understands company rules and processes
Clarification, which verifies that your employee knows exactly what's expected of them
Culture, which ensures your new worker knows your company's official and unofficial norms
Connection, which helps your new staff member form relationships with their coworkers
To build a process that addresses all four areas, follow this step-by-step guide.
1. Add your new hire to your HR and payroll software
Before your new hire's first day, add them to your HR and payroll programs so you can officially make them part of the team as quickly as possible and pay them on time without any issues.
If you use a combined HR and payroll software that includes an employee portal, like Workful, your new hire can create their account, provide their financial and tax information, and be ready to clock in on their first day.
2. Send necessary paperwork
If you wait until the new hire's first day to give them any necessary paperwork – like an I-9, W-4, and employee handbook – they'll spend a large part of the day filling out documents.
If possible, send them the paperwork in advance. That way they can bring in their completed forms on the first day and spend most of their time learning their new role and responsibilities. If your HR software has a document management system, your new worker can access everything as soon as they create their employee portal.
3. Keep everyone in the loop
A few days before your new hire starts, send them an email about what to expect from their first day. Tell them where to be, when to be there, and who will be waiting for them. Consider mentioning your dress code and where they should park. Then, give them a basic idea of what their first day will look like to help alleviate some of the first-day jitters.
Finally, tell your current staff about their new team member so they can be just as excited about the new addition as you are.
4. Set up their workstations
Make sure your new hire has everything they need as soon as they arrive. Their workstation should be fully stocked with any supplies and equipment they will be using. If they need an email address, have that set up as well. You might even give them a swag bag with items that have your company logo. Your new worker will be able to see how excited you are to have them.
5. Connect them with a mentor
Have your new hire shadow or buddy up with someone else in your company. Encourage them to go to lunch or coffee on your dime. That will give your new employee a chance to learn about the company from a peer's perspective and ask any questions they might hesitate to ask you.
6. Introduce your culture
Your company culture is an important part of your business, so introduce yours throughout the onboarding process. Start by sharing your mission, values, vision, and company history. Make sure your new hire knows what your company's purpose is and how their role fits into it. If they connect with your culture early, they're more likely to be engaged and productive.
7. Discuss expectations
During your new hire's first week, set aside some time to discuss expectations, including their responsibilities and how you will track progress and measure success. Talk about what you expect them to accomplish after their first week, 30 days, 60 days, and 90 days. Give your new hire the opportunity to talk about their expectations of the company, too. This could include their career goals and how your small business can help them achieve those.
Your new staff member's first week helps set the tone for their time with your company. Learn more about how to make their first week successful.
8. Offer hands-on training
Even if the person had a similar role at their previous job, your company likely has different processes and tools. The best way to get them used to the way things are done in your business is to start assigning them projects. Begin with something that they can complete during their first few weeks, so they feel like a contributing member of the team right away. As they complete projects and become more comfortable in their role, assign bigger and bigger projects, so they start to take on their full responsibilities.
9. Follow up regularly
Make a point to touch base with your new hire throughout the training process to see how things are going. Check in with them after their first week, first month, first 60 days, and first 90 days. This can help ensure the employee is meeting your expectations and you're providing the tools they need to be successful.
You might also consider talking specifically about the onboarding process, so you can continue to improve it for future workers. Ask them what they did and didn't like and what they would change. Use their feedback to make changes to the program as you see fit. Read also: 25 Questions to Ask on Your Next Employee Satisfaction Survey